L'exposition virtuelle de Sollertis
Peter Hutchinson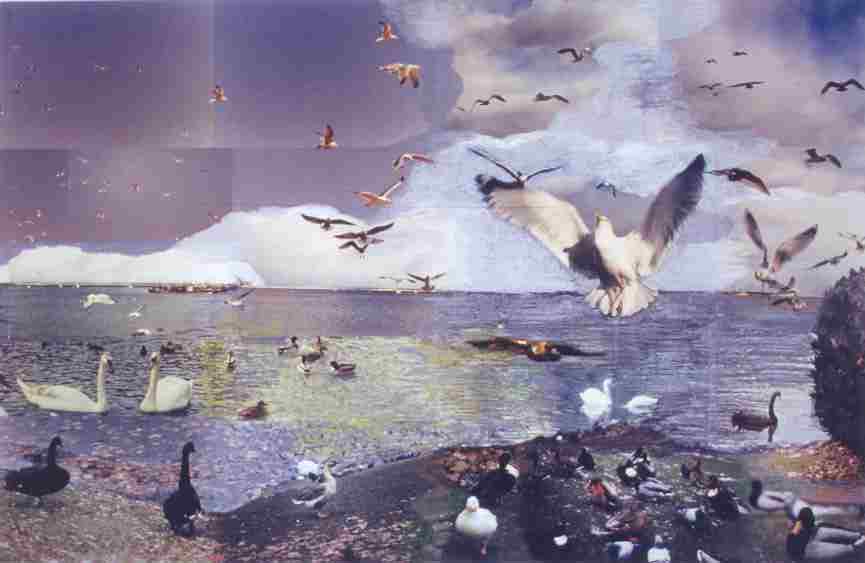 The Coming Season
Photos et pastel gras sur carton, texte, 101,6 x 139,7 cm, 1996
Lily Tomlin is going to appear on Murphy Brown, permanently. Ted Danson will have another show called Ink. Rhea Perlan will be in Pearl while the coming winter promises to be very cold with birds appearing plentifully.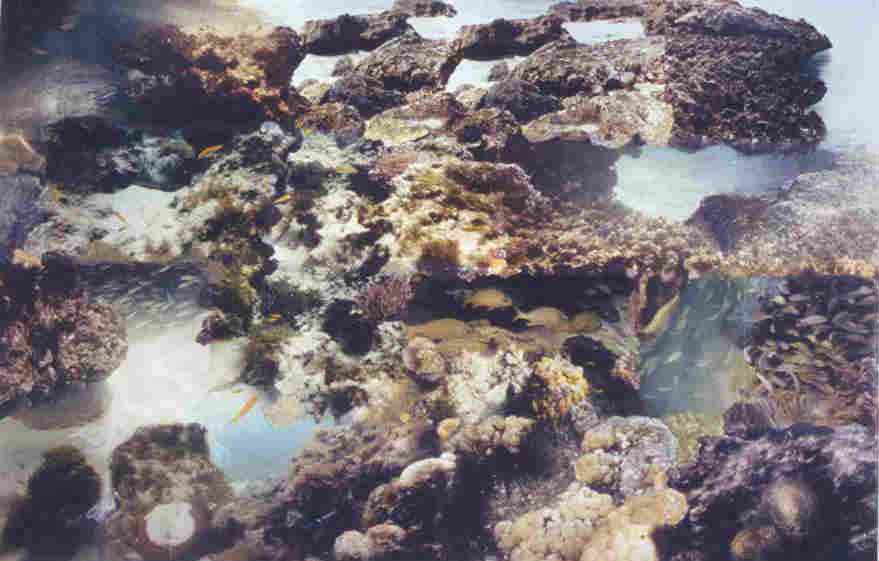 Diary 8th/9th
Photos et pastel gras sur carton, texte, 106,6 x 139,7 cm, 1996
Worked until 3 am. Very cold, 16°F. Deep snow-Window frozen shut so had to get up each time the three cats wanted in or out - Always separately- Couldn t leave them out all night in that cold-When day dawned and the sun rose I did leave them out and was able to sleep until 3 p.m. Still 26°F. Went downtown for paper & brought spray paint- Had a late lunch, grilled cheese & french fries, decaf. On way home, now 21° F, saw an unusual sunset-gray to maroon clouds fluorescent orange-edged, in a pale blue sky- Sprayed one large icicle with silver paint- borrowed hair dryer from neighbors and defrosted window-Fish tank sfoang leak. Emptied it, put fish & plants in bucket & siliconed the inside - Watched Outer Limits on TV and came into studio to work on this piece Diary.

The Dahlia-Matterhorn Hypothesis Alliterarive Landscape serie.
Photos et pastel gras sur carton, texte, 101,6 x 152,4 cm, 1998.
During many departing mandatory droughts, meteorologists doubted most dissertations - much discussion meants double magnification. Drurds (?) measured diurnal manifestations- Desert monuments do make direct minimums, devastating maximuns. Deep motivations demand measurements - Dams might desecrate Damascus.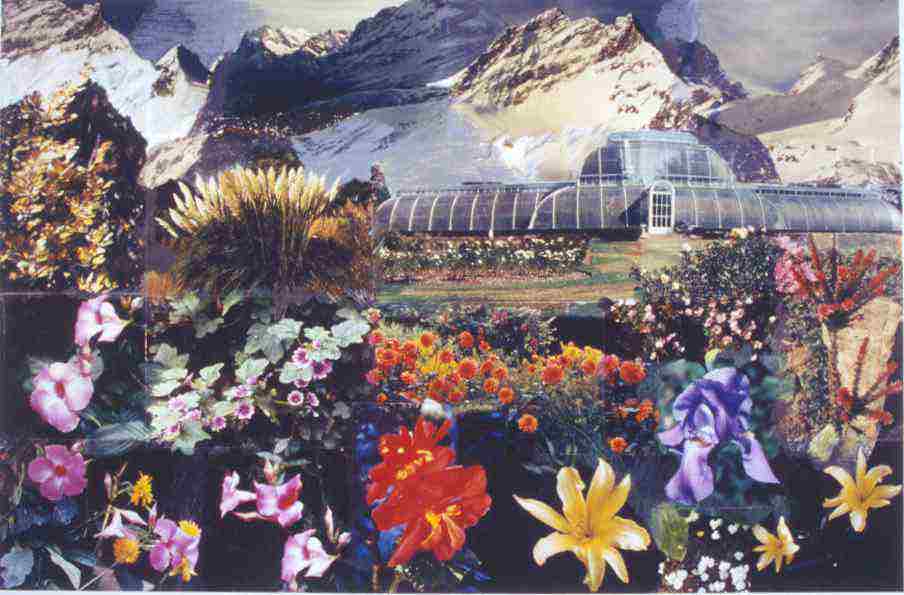 Alpine Greenhouse
Photos et pastel gras sur carton, texte, 101,6 x 142,2 cm, 1998.
Most of the greenhouses I have seen have been near sea level or at least on the lowest available ground. But I can imagine (and am imagining) a greenhouse high in the Alps, where tropical vegetation under glass would seem even more bizarre. This depicted green house is the great glass house at Kew in London where I recently visited - after visiting the greenhouses & flowers borders, I had a picnic lunch on the lawn a mid of flock of Canada geese.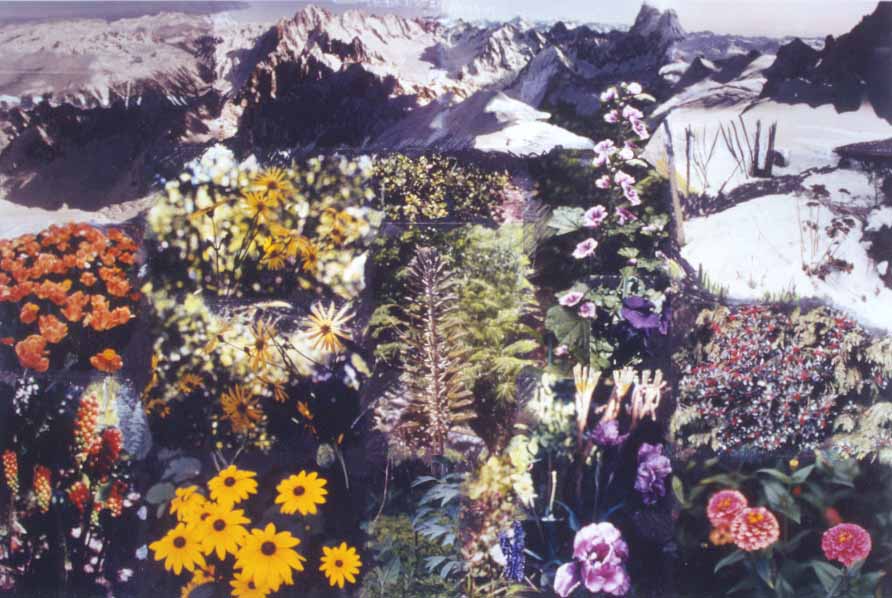 Rainbow Landscape
Photos et pastel gras sur carton, texte, 101,6 x 142,2 cm, 1996.
Except in rainbows & prisons, as far as I know Nature does not arrange colors in a rainbow order - this landscape attemps to do that. Starting at the left with orange tulips & arum seeds. Next come yellow Sylphium & gloriosa danisies continuing in the center with green foliage, a small amount of blue muscari purple malvas come next, then violet. Iris & tulips, finishing with red holly berries. This beeing the English way of ordering the rainbow.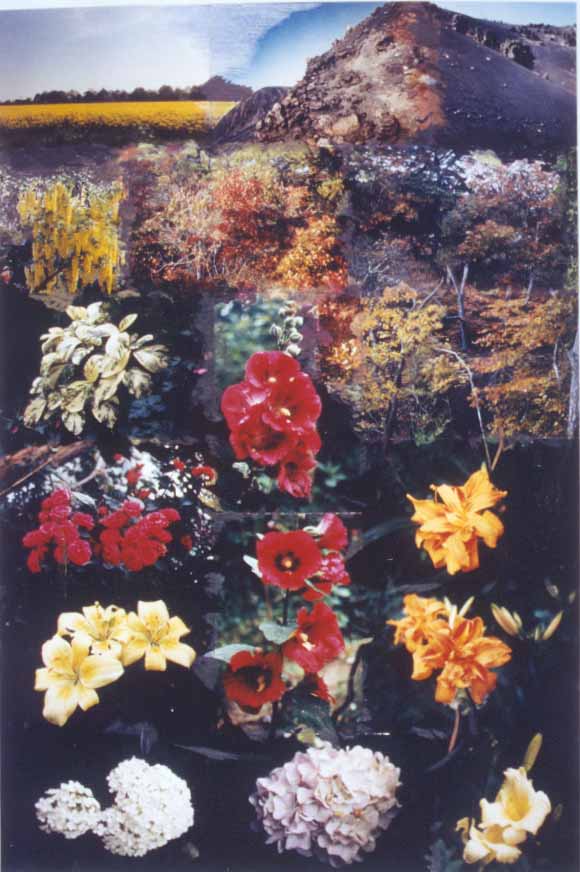 Mexican-French Hollyhocks Alliterarive Landscape serie,
Photos et pastel gras sur carton, texte, 152,4 x 106 cm, 1998.
My friendships handily alleviate lasting seriousness-Many find hardship & love simultaneously. Mutual financial headaches after levity seem mightily frightening. However aberrations leave some mandatory feelings. How average linguistic silences make for hell - a limited suggestion means far higher alleviation.


If you have comments or suggestions, email me at sollerti@mail.jovenet.fr